Tom Rivers, (born Thomas Neil Loughridge) died November 20, 2004 of cancer, was a true Top 40 icon. He spent four decades in Top 40 radio, with stops at KFRC San Francisco, WIBG Philadelphia, CKLW Windsor, CFTR Toronto and several other top stations. But he is perhaps best remembered for his many years at CHUM Toronto, where he came and went several times between 1970 and 2004.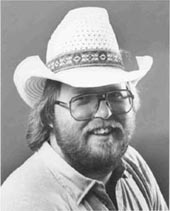 HEAR TOM RIVERS AIRCHECKS @
http://rockradioscrapbook.ca/tom-nov04.html
Tom Rivers, 57: Disc jockey personified AM radio
S0URCE/READ COMPLETE ARTICLE @
http://www.thestar.com/obituary/ntos/article/107956
Everything about Tom Rivers was big: His size (6-foot-8 "in round figures," as he'd say), his genuine talent for mayhem and his impact on Toronto.
His death yesterday, aged 57, after a battle against cancer, comes with a big reminder attached. The biker-like deejay was also one of the last great AM radio rock jocks here or in any rock 'n' roll town.
His greatest blast of publicity came in true rebel Rivers fashion in 1984 when the Canadian Labour Board ruled that CHUM unjustly fired him from his $65,000-a-year job in September 1982.
He wasn't entirely exonerated, though.
In her decision, adjudicator Jane Devlin took note of the rock deejay's unruly behaviour and apparent wilful inability to follow rules that led to his highly publicized dismissal — on his 35th birthday, yet — from the local Top 40 station.
So what if Rivers thought rock and unruliness went together like Mick Jagger and Keith Richards? He'd been warned.
Unruly behaviour such as eating food on air was simply too much. At least that was the warning from CHUM general manager J. Robert Wood.
In response, Rivers did what any self-respecting rock jock would do under the circumstances. Ordering the biggest, multi-course meal from the nearest restaurant, he proceeded to chow down live on air with gusto.
If Rivers had a goal in life, besides playing music he loved, it was getting under management's skin. In fact, he did it with such flair that even Wood was left breathless in admiration for Rivers and "his great talent."
Indeed, Rivers and Wood had a legendary love-hate relationship. Rivers loved doing all the goofy stuff that made it on air. Wood, a straitlaced but very savvy rock programmer, wanted the goofiness confined to the music, with only a minimum slopping over the edge into live broadcast. ....
-------------
http://www.broadcasting-history.ca/index3.php?url=http%3A//www.broadcasting-history.ca/personalities/personalities.php%3Fid%3D384
Pioneer - Member of CAB Hall of Fame
Rivers, Tom
(1947-2004)
Although he was born in the United States, Tom Rivers' highly successful career in radio made him one of the most admired on-air personalities in Canada and North America, and a highly successful Top 40 dj.
Born Thomas Neil Loughridge, Tom Rivers grew up in Newberry, Michigan, and his first radio job was for local station WNBY in 1966, when he was 18. The following year he moved to station WIDG in St. Ignace, Michigan, which was followed by two years at WKNR Detroit. It was in 1971 that Tom crossed the border to work in Canada, when he was hired for what was to be only the first of four separate stints with CHUM 1050 Toronto.
The mercurial personality that made Tom so successful on-air was sometimes the bane of his employers, and this, in part, was why he worked for many different radio stations over the ensuing years. Stories about Tom are legion on rock 'n' roll websites, with many tributes from Canadian co-workers.
After only a year with CHUM, Tom moved to CKLW Windsor, a station heard strongly in the Detroit market; from there, he went back to the States in 1972, where he first did two years at WIBG Philadelphia before returning to CHUM in 1973. In 1994 he moved to KIQQ Los Angeles, where he stayed through 1976. That was the year later he packed his bags again and headed north, first to San Francisco for two years at KFRC followed by a year at KYA in the same city, and then to Anchorage, Alaska, for a year with KFQD – where he was also program director.
He returned to Toronto, and CHUM, in 1980, but after only two years he was on the move again, but this time only down the street to CFTR, where he began on January 8th 1983 and actually stayed for ten years, for over seven of which he did the morning drive show. In 1992 he moved briefly to CKFM Toronto, and then equally briefly to CJEZ Toronto, before heading west again in 1993, this time to CKRA Edmonton. After two years there, he moved across town to CHED, where he stayed for another two years. Then it was south to Calgary, for a year at CHQR – where he did talk radio for a year
In 1998 he returned to Toronto, where he did another talk show, this time on CHOG, which had forsaken its top forty format to become all news/talk. A year later Tom returned yet again to CHUM, where he stayed for three years before moving to CJAQ – "Jack" radio – in 2004.
In the late 1980s, Tom created what was to become a highly popular syndicated radio show, The Unfriendly Giant, a parody of the CBC's Friendly Giant children's television series. In Tom's version, Friendly was always beating up on Jerome the Giraffe, and eyeing Rusty the chicken as a possible source of dinner.
Tom Rivers died of cancer in 2004. On hearing of his death, former CHUM news director Brian Thomas told Broadcaster Magazine: "He was probably one of the greatest rock 'n' roll jocks of that (70s and 80s) era. That hugely larger-than-life delivery, that wonderful voice he had, and his ability to excite you, made him sound almost untouchable."
In 2005, the CAB recognized Tom Rivers' exceptional contributions to Canadian radio by naming him to the CAB Hall of Fame.
SOURCE: http://www.broadcasting-history.ca/index.html
-----------------------------------